CARISA CEGAVSKE | Senior Staff Writer | The News-Review | Jul 28, 2020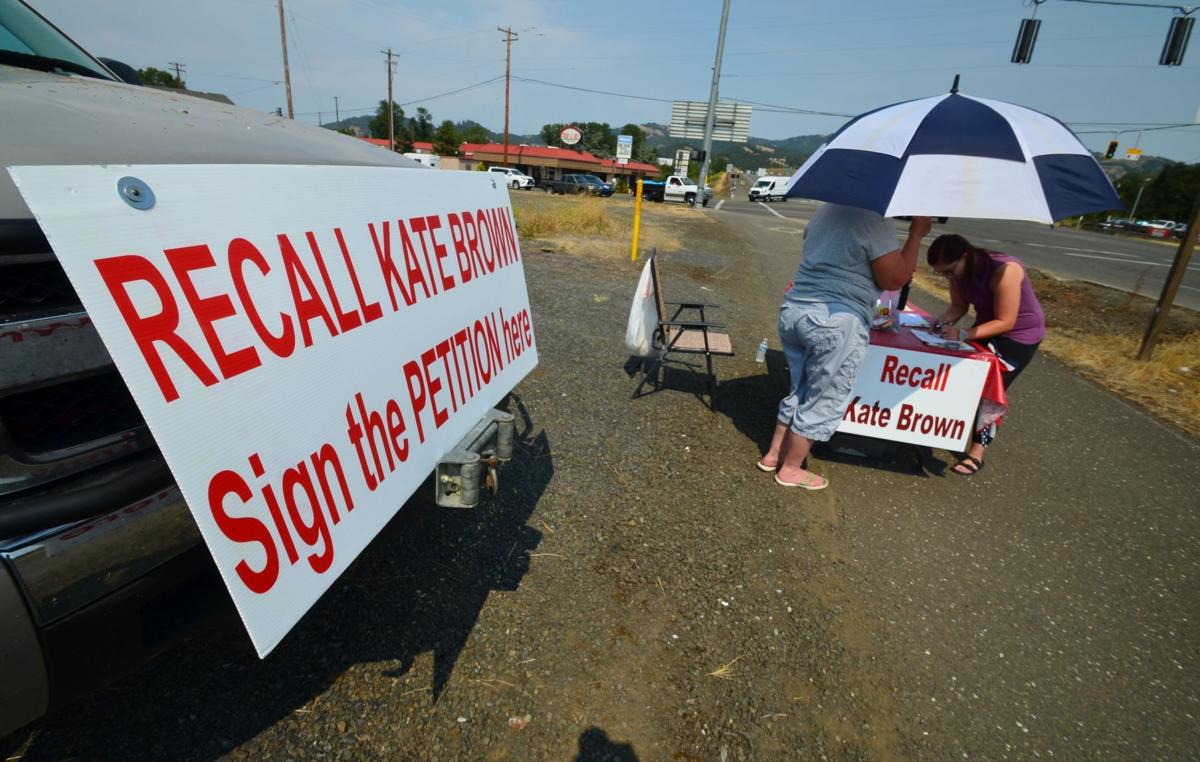 Douglas County residents who want to replace Gov. Kate Brown were lined up outside the door at Douglas County Republican headquarters in Roseburg Monday morning, waiting to sign a recall petition.
As of Friday, about 7,000 county residents had signed the petition, according to Douglas County Republican Central Committee Chairwoman Valynn Currie.
Currie said it's not just Republicans signing.
"We're getting people switching from Democrat to Republican right and left," she said. Non-affiliated voters are also signing up, she said.
Taxes and restrictive regulations, particularly on businesses, topped the reasons for supporting the recall. The governor's more recent handling of demonstrations in Portland and COVID-19 ranked a distant second and third.
As Currie summed it up, "(Brown) already dug that grave before corona ever happened. She just made it deeper, so she's just digging a bigger, deeper hole."
Republican Precinct Committee Person Chairwoman Kathey Linn said some cited the continual changing of COVID-19 regulations, such as who has to wear masks.
"They just can't make any sense out of the rules. I mean, you know, it's one time kids can't get it so they don't have to wear masks and then boom, all of a sudden five-year-olds," she said.
And then there's the cost to businesses.
"People are going out of business because of all these rules and regulations. They're having to sell their businesses. And these businesses will never open up again. That's harsh," she said.
The recall campaign has until Aug. 28 to collect the requisite 280,000 signatures statewide. They're pushing to collect 450,000 to be sure they have enough valid signatures from registered voters to qualify for the ballot.
If they're successful, a special election would be held, most likely in October.
And that's when the campaign would face its biggest challenge: converting or counteracting the voters who favored Brown in the 2018 election. Brown was already unpopular in Douglas County then, with voters favoring Republican Knute Buehler by a 3 to 1 margin. But Brown cruised to the finish with strong support in much more populous Multnomah, Washington and Lane counties.
Linn said she thinks the key to a successful recall is to get out the vote, and she believes those who want Brown out are motivated to do it.
"People are getting their families, friends and neighbors and bringing them in. I've not seen this kind of cooperation ever," she said.
At Kovachy's Coin and Jewelry in Canyonville, owner Bud Kovachy said he's been collecting about a dozen signatures a day.
Kovachy believes the governor's failure to bring an end to the Portland riots is a "good demonstration of her inability to govern."
But his main concern is the effect of taxes and regulations on businesses. He said businesses like his have been harmed by the corporate activity tax on gross sales, which has impacted his ability to buy gold and silver bullion and his ability to make large sales to clients in Oregon.
He said he's looking for a new governor who respects individual liberties. Instead, he said people can't even go down to the river and do a little gold dredging or fish with their kids without running into a lot of red tape.
"Basically Oregonians I think are very self-reliant, independent-type people, especially the ones that don't live in Portland. And they just don't like to be told what to do all the time," he said.
Bob Murray of Bob Murray Trucking in Roseburg said signature gathering was going well at his place, too.
Murray opposes Brown mainly on economics, and on her governing style — which he described as dictatorial.
Although Oregon voters have repeatedly refused a sales tax, the governor approved a corporate activity tax that Murray said amounts to the same thing.
"Even though it was directed at corporations, you know who's going to pay all that tax at the end. All the people, the consumers are," he said.
Murray also opposed Brown's executive order on carbon emissions, which he said punishes sawmills and trucking companies that depend on carbon-based fuels. He said an incentive program would be a better idea because you "get more done with sugar and honey."
The bottom line, he said, is that Brown acts like a dictator with a magic wand she uses to create whatever she wants for the citizens of Oregon.
"That's not the way I think our state should be ran," he said. "I think our state should be ran by its citizens."
Reporter Carisa Cegavske can be reached at ccegavske@nrtoday.com or 541-957-4213.