Nia Tariq | Jul 25, 2020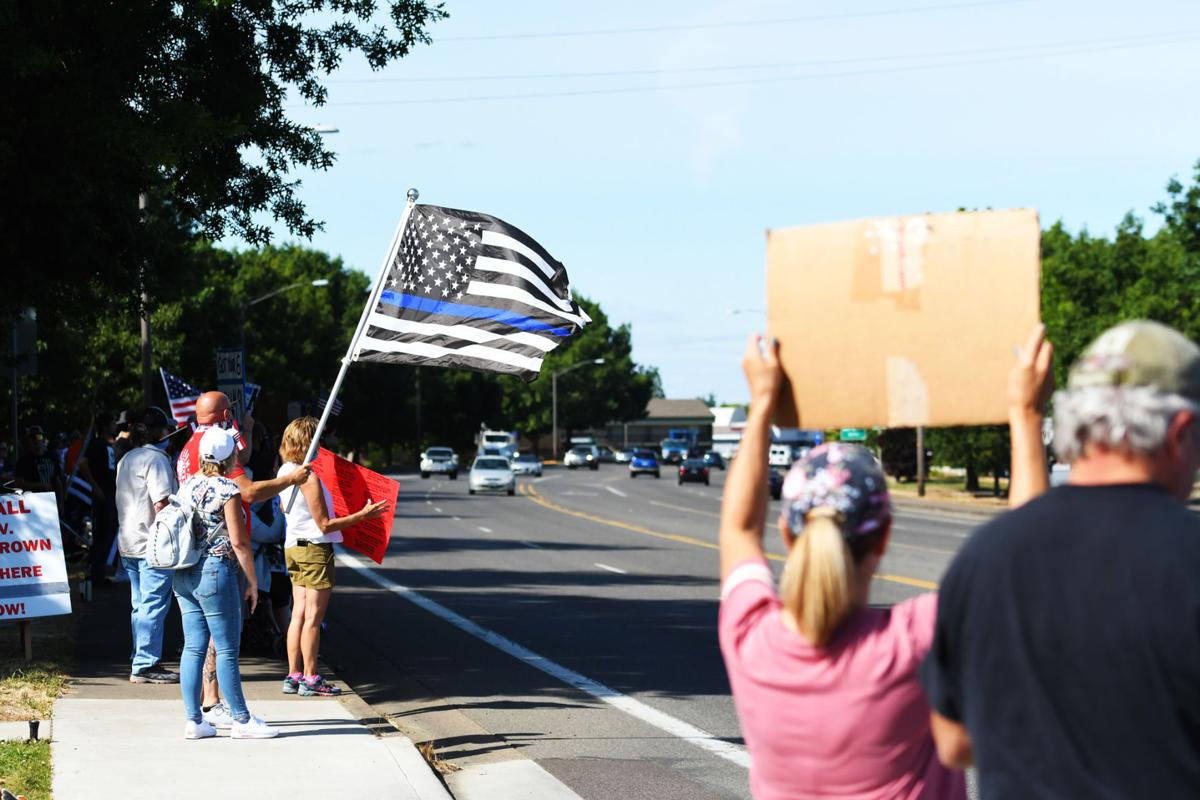 Oregonians from Sweet Home to Salem gathered in Albany on Friday evening to support police in a "Back the Blue" rally.
Corvallis resident Heather Brown, who also organized a Corvallis "Thin Blue Line" rally last week, hosted the event after mid-valley residents requested she do something similar for Albany police.
Brown is one of pro-police citizens nationwide who have begun to hold rallies in response to the Black Lives Matter movement. Recent altercations between protesters and law enforcement in Portland especially, she said, are a motivational factor for her rallies.
"I don't feel safe enough to go up to Portland and do this," said organizer Heather Brown. "I felt like I needed to do it where I could."
Brown's rally in front of the Albany Police Department garnered a better turnout than that of the Benton County Courthouse rally. More than 50 demonstrators showed within its first hour, including veterans, children, a political candidate and a pet mallard duck named Boo.
Brown said she called the rally "Back the Blue" because events of that name have become more common across the country. That crop of rallies began as an ACT for America activism campaign, according to ACT's website. However, the Southern Poverty Law center, a nonprofit civil rights advocacy group, has labeled ACT as a hate group, especially toward Muslims.
"With radical leftist protesters constantly vilifying our local heroes, it is our job to stand up and defend their honor," the ACT's Back the Blue webpage reads.
Brown is not anti-BLM, she said, and wants everyone to feel loved. This is despite the names of either of her rallies — especially regarding Thin Blue Line's association with Blue Lives Matter, which is a countermovement to BLM. Rather, she said, she wants to show mid-valley police that there are people in the community who appreciate the dangerous job they do.
The preservation of "law and order" was a common wish among the rally crowd, especially with Republican U.S. Senate nominee Jo Rae Perkins. Although the Albany resident said she is not anti-BLM — rather, anti-Marxist — and that "every life matters," she said, she's also "absolutely appalled" by the riots she's seen in Portland.
"I think it's important that we stand firm for law and order," Perkins said. "These men and women … they see things and deal with things that the vast majority of us will never see."
Linn County representatives from the Stop The Abuse – Recall Kate Brown movement were canvassing for petition signatures during the event. Both Brown and Perkins said they were in support of that effort as well.
Sweet Home resident Lela Danforth said she attended both rallies in remembrance of officers who've lost their lives to violence.
"You can't correct a right with two wrongs," she said. "A lot of officers have put their lives on the line."
Local and federal law enforcement officers have been injured during the Portland riots, but none as of Friday evening have been reported killed.
Reporter Nia Tariq can be reached at nia.tariq@lee.net.